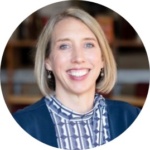 Our nation commemorates Martin Luther King Jr. and his fight for racial equality on Monday, January 16, 2023. The Act establishing the day states "the holiday should serve as a time for Americans to reflect on the principles of racial equality and nonviolent social change espoused by Dr. King."
To help in that reflection, we asked Tessa Michaelson Schmidt to recommend a book. The director of Cooperative Children's Book Center (CCBC) and Information School alum had the perfect book as well as a whole list of recommended reading about Black experiences.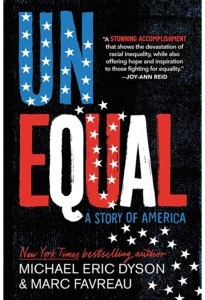 What is the book you recommend?
Unequal: A Story of America by Michael Eric Dyson and Marc Favreau, published by Little, Brown and Company in 2022.
Whom do you recommend the book for?
Ages 12 and older
Why do you recommend this book?
Unequal: A Story of America is a smartly told and unflinching examination of the history of racism in the United States, specifically written for teenagers (versus an adaption of an adult book). The prologue begins like this, "This is a book of truth. So we'll start by telling you the stone-cold fact that there are many people who do not want you to read it."
Each chapter of this book examines a different dimension of White supremacy and suppression of Black people, including segregation, lynching, attacks on Black economic success, labor inequality, housing discrimination, education affirmative action, voting rights, activism, criminal justice and policing, environmental racism, and health care inequities. The short chapters begin with a brief spotlight on a contemporary person and issue that juxtaposes the historical deep dive of each chapter's topic and profile. For example, an anecdote about Christian Cooper's experience as a Black man birdwatching in Central Park in 2018 segues into a profile of Mary Church Terrell and her role in the history of legal segregation and perceived space ownership, from Jim Crow laws to Brown v. Board of Education.
On their own, each chapter conveys how historical inequalities continue to shape the present. Collectively, they offer a compelling narrative for the interconnected and destructive forces designed to maintain inequality. The book closes with an afterword that reflects current headlines and a call for change: "The history we learn about in school is a battleground….Opponents of the truth want to close the curtains on the facts. Fortunately, it's within your power to determine what is true and what is not."
What is the book you recommend?
I recommend the titles on the Cooperative Children's Book Center's booklist Black Experiences: Affirmation and Resilience, Activism and Resistance in 45 Books for PreK-Grade 12, which is updated annually.
Learn More about Unequal: A Story of America
In the video below, hear from Dr. Michael Eric Dyson on compiling a story of America with co-author Marc Favreau.