Three years ago, UW–Madison took a bold step to be a leader in the information age and created the School of Computer, Data & Information Sciences (CDIS). Our three nationally ranked departments – Computer Sciences, Statistics, and the Information School – have accomplished a lot in that time.
Being a UW graduate myself, the university fed my fascination for how things worked and shepherded it into a career as a high-tech entrepreneur. In my role as founding director of CDIS, I am passionate about paying that forward through each academic program introduced, research advancement, and industry connection. Never am I doing this by myself as we embrace the saying "alone isn't where ideas thrive."
As a first-of-its-kind collaboration, the school strives to use computing and information to reshape every industry and element of society. While CDIS is new, I recognize that your affiliation, history and experience with UW is not. Each department within CDIS has a unique and important history that has influenced where we are today. By coming together, our departments are intersecting in new ways that create a powerhouse of knowledge and innovation for the university, state and beyond.
Since its beginning, CDIS has focused efforts in five areas:
Research
Curriculum
Industry Collaboration
Diversity and Outreach
Operational Infrastructure
We have made significant progress in a short amount of time. Notable accomplishments include creating two new undergraduate majors (Data Science and Information Science) as well as three new graduate programs (MS in Information, MS in Data Science, and MS in Data Engineering).
The surge in our enrollment is unprecedented. CDIS is home to both the largest and fastest growing majors on campus (Computer Science and Data Science, respectively). The interest and pace of growth reinforces the critical need to advance the teaching and research of computing in the information age.
Also underway is the construction of CDIS's new home in the 1200 block of University Avenue. Designed to be the most sustainable facility on campus, the 328,000 square foot building will complete UW's tech corridor and be a global hub for advancing research and instruction at the intersection of technology and humanity.
Funded entirely through private resources, the $225 million facility will bring all our departments under one roof when it opens in early 2025. Not only will the facility provide much needed teaching space for our exponential growth, it will also magnify the power of discoveries across the university through spaces designed to foster collaboration and innovation.
The future of CDIS is bright but it would not be possible without incredible people. I am grateful to all our alumni, donors, faculty, staff, students, and industry partners who have shown their support over the years.
Thank you for your support. On, Wisconsin!
Tom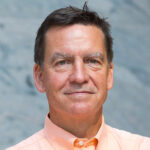 Tom Erickson '80
Founding Director
School of Computer, Data & Information Sciences