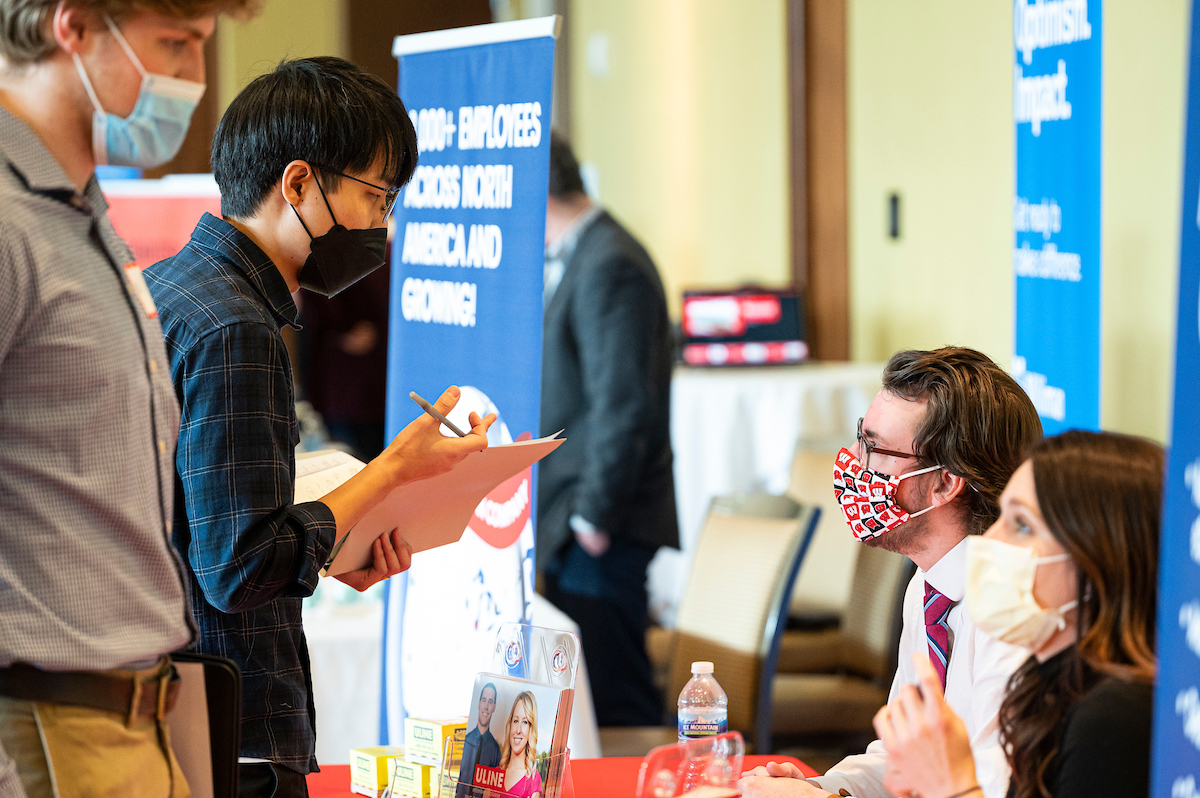 The School of Computer, Data, and Information Sciences's spring job fair enabled students to get a jump start on their careers by making connections with potential employers and influential players.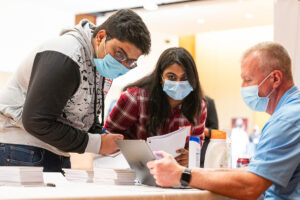 The Computer Sciences Department has been using career fairs to connect students with employers since 2006. This year, it combined with other related majors, such as Data Science, Information Sciences, and Statistics, to create a more wide-reaching and inclusive networking event for the whole CDIS community. 
The Career Fair, held at Union South on the UW-Madison, campus was in person with all participants wearing masks, allowing students to ask questions and connect with employers face-to-face. Notable companies recruiting this year included Epic, Milliman, DataChat, Sentry, Esker, Gainwell Technologies, Uline and Proctor & Gamble.
"It's really nice to meet people in-person and ask questions, especially for answers that you can't find online," said Xuecheng Yeng, a senior majoring in Computer Sciences. 
Employers from across Wisconsin and the nation came to the CDIS job fair, specifically in search of Badgers to fulfill internships, fellowships, and full-time jobs. 
"We always find smart cookies here," said a representative from Milliman, a Seattle-based actuarial consulting firm. 
"Smart cookies" is an apt description of CDIS Badgers; all CDIS departments are in the top 15 nationally and 49% of students are double or even triple majors. 38% of students attending were juniors or underclassmen taking a forward-thinking step in their career by developing a professional network or seeking a cutting-edge internship.
"I thought the Career Fair was terrific," said William Meyers of Proctor & Gamble Modeling Sciences. "We talked with many students that we feel would be great candidates for both our full time and intern positions."
"I'm here mainly to build my professional network and learn how everything works [in terms of career searching]," said Pranav Chaabra, a junior studying Computer Sciences. "I've gained a lot of knowledge here!" 
There is no shortage of talent for these employers to find at UW-Madison, given that Computer Sciences is the most popular major at UW, and Data Sciences is the fastest-growing program at UW.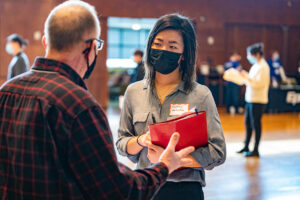 Some employers came to the fair because of previous ties to the state. Wisconsin holds one of Gainwell Technologies's biggest and most profitable accounts, and National Electrostatics Corp. was founded by two UW-Madison alumni. 
"We've been to the engineering fair and other career fairs here at UW-Madison," said Edith Fitzsimmins of National Electrostatics Corp. "There's so much talent right here in our backyard!"
"I'm so pleased at the results of this job fair," said Dean Welch, business engagement manager for CDIS. "We helped many companies find prospective employees and we served our students who needed to look for jobs. And we did it in COVID times. That's a victory."
CDIS plans to hold it's next career fair on September 28, 2022. To learn more visit cdis.wisc.edu/careers/.
By Cailyn Schiltz