Space Renovations Help Meet Growing Student and Faculty Needs
By Nicole Herzog
06/07/2021
When students and faculty come back to campus this summer and fall, they are in for a nice surprise. Though the pandemic has resulted in many of us working from home, many on campus have been hard at work preparing for the Fall 2021 semester. Within the School of Computer, Data & Information Sciences (CDIS), the departments of Computer Sciences (CS) and Statistics have been reconfiguring, updating and refurbishing facilities and community spaces to meet growing student, staff and faculty needs.
While plans are in the works for a new CDIS building to house all three departments, the rising number of students enrolled in CDIS majors has tasked both Computer Sciences and Statistics departments with ensuring that current spaces are both welcoming and efficient.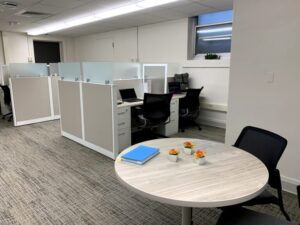 Over the last several months, a team from CDIS, CS, Statistics as well as Facilities & Plant Management worked together to design, move walls, add technology, paint, install cabinets, hang art, deliver new furniture and more to the current Computer Sciences and Statistics buildings. Additional updates include: renovated study spaces in both the CS and Statistics buildings, a kitchen and lounge area intended to welcome the influx of new Data Science students, refurbished meeting spaces and a cutting-edge robotics lab.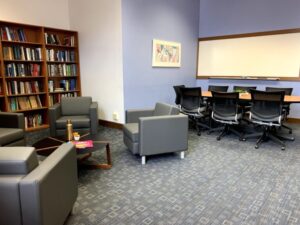 Many of the renovated spaces will include art pieces from the UW-Madison Campus art exchange, which provides fine art for public display across campus.
"Creating a more pleasant environment for all of our students is important to us, despite the limitations of our existing space, said Bret Larget, Professor of Statistics. "The physical changes we are making will provide better places for Data Science and Statistics students to study and hang out during the day or when waiting to meet with our team of advisors, while also providing more comfortable space for our graduate students in the building on weekends and during the evenings."
With Data Science being the fastest growing major on campus (housed in the Statistics department) and Computer Sciences recently cracking 2,000 majors as the most popular major on campus, such renovations are a collaborative effort to accommodate the growing CDIS community.
"Both Computer Sciences and Statistics have been growing exponentially, so these renovations are short-term fixes to meet the needs of students, faculty and staff," said Vasso Founta, program director of CDIS who oversaw the renovations. "Although space remains tight, we want to make sure our students, faculty and staff have the best possible spaces to flourish in their work."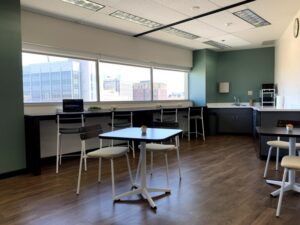 When the new CDIS building opens in 2024, others in the UW-Madison community will move into the renovated spaces and may benefit from these efforts. Presently, however, the renovations will ensure a positive environment and make current CDIS spaces as efficient and pleasant as possible.