Even before earning his bachelor's in computer science, Max Lynch '10 acted on his entrepreneurship spirit. Along with his friend, Ben Sperry '10, Max developed programs that would lead to the founding of Ionic, a platform for building and deploying modern mobile applications and micro frontend experiences.
In November 2022, Ionic announced that it will join OutSystems, a global leader in high-performance application development. In this interview, Max reflects upon how both his coursework and participation in student organizations helped him succeed.
He also shares why it's never too early to start their entrepreneurial journey. 
You co-founded Ionic with another UW-Madison alum, Ben Sperry. How did a computer sciences major and graphic designer connect and decide to start Ionic?
Ben and I actually grew up together in Shorewood, WI (near Milwaukee) and were very close friends. When we were in high school, we started getting interested in game development. That was the first time we combined forces on creative projects, and with his art talents and my programming skills we were able to make some basic games. We then moved into web development and worked on a number of projects over our high school and college years.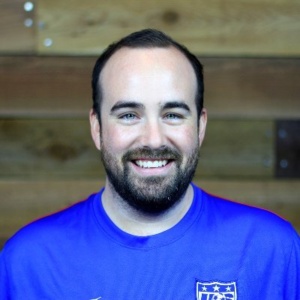 While in college at UW and around 2007/8, we were both inspired by the new startup movement that was taking place around communities like Y Combinator and Hacker News, that was encouraging people like us without traditional business or entrepreneurial backgrounds (we are both "first generation entrepreneurs") to start companies. It turns out a developer/designer duo was a perfect fit for this movement, as we could build any web-based product we wanted without needing any outside help or hiring a team to get it off the ground. For me personally, it was a gift to have an incredibly talented designer help make everything I built look amazing, instead of my questionable "Programmer Art."
We then learned how to build an actual company around our first product efforts and that eventually turned into Ionic. On that front, there was no school or course we could have taken, we just needed to build it and learn along the way.
How did your time as a computer sciences major prepare you for your founding and running Ionic?
The CS major at UW required a lot of serious programming, and I think the biggest benefit of a CS education is that it teaches you how to be self-sufficient and really understand how to put computers to work to effectively manage and manipulate data and information. The homework assignments themselves made me a much more confident programmer. Additionally, spending so much time in a Linux environment forced me to really master more advanced topics like the command line, tools like vim, and systems-level programming.
That being said, a UW-course load is intense, and I realized that I had to adjust my priorities if I wanted to start building my career as a startup founder, so I ended up putting a lot of time into building my own projects on the side. I also participated in the IEEE Robot Club and won second place in the first annual NEST contest in the CS department. I don't regret prioritizing those above my GPA for even a second. So, I would strongly encourage students who see themselves becoming entrepreneurs to do whatever they can to start _today_, because it's one of the very best times in your life to start doing that and building those skills. This is a field where success and deep learning can take a long time, so the sooner you start, the better.
A key hallmark of Ionic appears to be community. You co-host the Ionic Show, run a Discord with over 5,000 active users, and recently introduced a community group called the Ionic Developer Experts. Why is community-building so important to you and Ionic?
The Ionic community is large and is measured in the millions around the world. We focused on community building in the beginning because we didn't have the luxury of lots of money to spend on marketing, and it was just a lot more fun to have authentic users and to engage with them directly without putting up the walls that so many companies have between them and their users.
It turns out that the Ionic community has become one of the strongest parts of our business, and authentic community experiences are critical in an age where paid marketing is increasingly challenging and expensive. All companies today should be community building from day one, it's not a nice-to-have anymore.
With the OutSystems acquisition, you will be able to put more resources into your projects. What project are you most excited to see develop in the coming year?
We're building the platform that can help any person interested in building software do so. Initially, Ionic focused exclusively on people who are proficient enough to write code by hand. OutSystems has focused on building wonderful visual development tooling that, in most cases, doesn't require coding at all. We both believe the future has to include visual and traditional development, yet no company has pulled that off and combined the two approaches into a single platform for everyone. We plan to become that.
Even having accomplished so much, you're probably not done yet! What professional or personal goals do you have for the next five or ten years?
Building a company is an incredible chance to really figure out what you're great at and what you love to do. I've learned so much about myself over the last 10 years since we started Ionic and I know what I'm great at and what I'm not so great at. I personally love being in the creative zone building software, so I plan to focus on that. In my role at OutSystems I am working on several new Open Source projects and improving our existing ones, and I'm loving the chance to focus on what I do best.
What advice do you have for fellow badgers with entrepreneurial goals?
Start building something today. It's hard to understand just how amazing the opportunity you have to do that right now really is, before post-college life gets in the way. At the same time, don't compare yourself to other founders and don't worry about not having built a huge company yet, just focus on learning and having fun. This is much more of a marathon than I realized, and the path to success is winding and different for every single person. 
Additionally, don't be insecure about not having a traditional business background. You don't need business school and you don't need an MBA in order to start a startup. If you have the ability to build software and find other smart people to join up with, you can figure out the rest as you go.
And, finally, don't be afraid to reach out to fellow Badger startup founders like myself with advice. We enjoy nothing more than helping young people avoid the mistakes we made and get to the fun part faster!
Anything else you would like to share?
My time at UW and working on my CS degree are some of my most cherished memories. I spent so much time in the lab in the old CS building working on homework and coding projects, and building my skills by experimenting and learning. Make sure to look up every once in a while and take it all in. Being around so many smart, driven people was one of the best experiences of my life.