by Elea Levin
04/01/2021
Computer Science graduate students Daniel Rakita and Andrew Schoen earned finalist and semifinalist ranks, respectively, in UW-Madison's 2021-21 Three Minute Thesis competition. Over 60 graduate students participate in the competition this year from a wide variety of departments.
Three Minute Thesis is an international competition in which graduate students are given three minutes to present their thesis project to a general audience. Because the competition was held virtually this year, participants were required to film their presentations instead of presenting to a live audience.
Rakita's project, entitled "Mimicry Control: A Robot-arm Control Interface for All," presented a design for a robot-arm control system in which the robot would mimic a human's arm movements, Rakita explained.
"We have demonstrated that many people, regardless of skill-level, can intuitively use Mimicry Control with little to no training, and we are excited about the potential that this interface has to usher in a new era of many people manipulating and interacting with remote environments," he said.
Rakita hopes that this technology will be helpful particularly in the healthcare space.
"I think affording many people the ability to intuitively and comprehensively control robot platforms to manipulate remote environments will drastically improve the way people are able to care for and help others, such as through remote home-care or telenursing," Rakita said.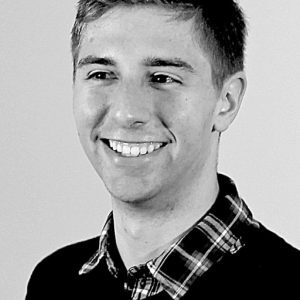 Schoen's project, "Better Robot Task Specifications," looked at how robots can be used in collaborative work settings and discussed ideas for improvements.
"The focus of this work is improving the way we think about and conceptualize the instructions for robots when designing programs," he said. "My thesis is strongly motivated by the disconnect between the capabilities that robots can bring to collaborative work, and how they are currently being utilized."
Schoen says a number of factors within the computer science department made his work possible, including their willingness to work with other departments, the quality of fellow students within the department, and the department's emphasis on valuing multiple perspectives.
"I am a former UW grad in biology and psychology, and some departments might not be as accepting of someone coming into a graduate program with no formal computer sciences experience," he said.  "The fact that the CS department allows flexibility in finding advisors and research focus during the first couple years meant that I could find a domain and advisor that allowed me to utilize my prior experience but also grow that experience in a field that I had a passion for."
Rakita was similarly thankful for the department's help in preparing for the competition.
"The department in general set the stage really well for my PhD work, such as through interesting, foundational classes, conversations with other professors, and conversations with other students," he said.
Congratulations to all the students who participated in the Three Minute Thesis competition, and thanks to all the professors and staff who made this year's competition possible!