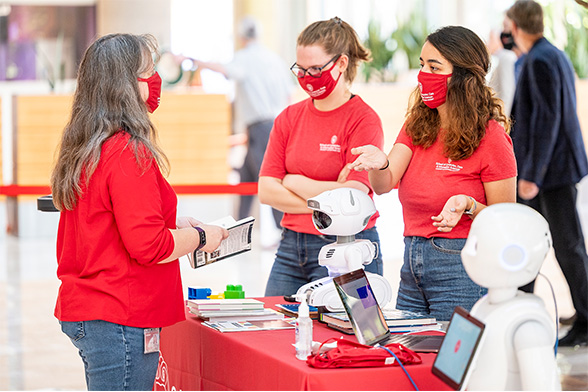 By Arushi Gupta
10/19/2021
Business leaders, politicians and the UW-Madison community came together after over a year of working from home. Reporters lined up, with cameras and recorders handy. Minnie, a companion robot who helps children learn how to read, stood tall with the graduate students who helped build her. All of these converged on September 17th at the Discovery Building to celebrate the national launch of the School of Computer, Data and Information Sciences (CDIS) and to announce $175 million in donations to support a new CDIS building.
The event, which happened right across the 300 block of Orchard Street where the new 300,000-square-foot CDIS building will find its home, was also live-streamed with supporters logging in from around the country and the globe.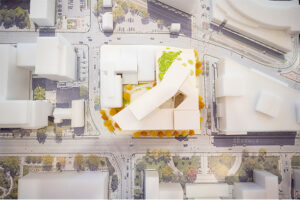 Highlights of the event included several speakers who offered personal anecdotes about their connection to technology and information science at UW-Madison and how pivotal CDIS and the building will be in transforming the innovative and collaborative high-tech landscape of Wisconsin.
"CDIS will bring together a set of top-ranked programs in a way that no other university is quite doing," says Chancellor Rebecca Blank. "And the interactions between those programs are going to create opportunities for faculty to collaborate in all sorts of interesting ways, increasing our national reputation in this area in turn."
John and Tashia Morgridge, both UW-Madison alumni and trailblazers in entrepreneurship and technology, pledged $125 million in support of the building including $75 million outright and a 1-to-1 challenge match of $50 million. On stage, John Morgridge proudly wore his CDIS t-shirt to showcase his support and belief in the transformative power of the school.
"This investment, and the CDIS building and the departments it will inspire, is part of our repayment to the people of this state for our education," said Morgridge. "We, like our parents, have long believed that education is one of the very best investments in a future world."
In addition to the Morgridges, the Wisconsin Alumni Research Foundation, a partner dedicated to enabling the university's research to benefit the world, announced $50 million in support for the building which will accelerate discovery and the education of tomorrow's leaders.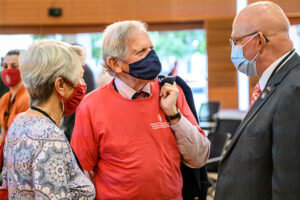 CDIS Founding Director Tom Erickson couldn't be at the event in person due to COVID-19 but virtually spotlighted childhood stories and the enormous impact CDIS will have on the Madison community. Erickson highlighted the evolving landscape of society and a major shift toward the tech industry strengthened the university's resolve to erect a physical space where ideas and people can converge. 
Senator Dan Feyen (R-Fond du Lac), who serves on the Wisconsin Economic Development Corporation board and is the assistant majority leader, spoke at the event and lent his support to CDIS. Feyan remarked how important it will be in fueling Wisconsin's economic engine.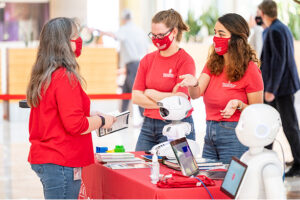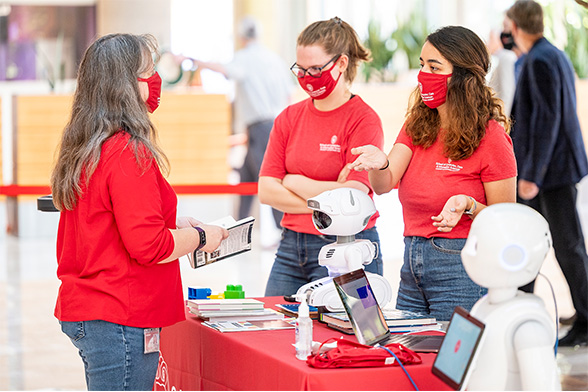 "CDIS will assist in developing and diversifying our state's workforce in much-needed areas, which will lead to ingenuity and economic development," says Feyen. "Graduates will have a unique perspective on issues Wisconsin faces, and have distinct solutions to these problems."
In addition to Erickson, Blank, Morgridge and Feyan, speakers included Erik Iverson, CEO of WARF, Melissa "Missy" Hughes, Secretary and CEO of the Wisconsin Economic and Development Corporation, Eric Wilcots, professor and dean of the College of Letters & Science. The emcee was Remzi Arpaci-Dusseau chair of the Department of Computer Sciences. 
Attendees were offered a sneak peek into the features of the new building which will include an accessible courtyard as well as a home for The American Family Data Science Institute, Center for High Throughput Computer and Department of Biostatistics and Medical Informatics.